Whitby Addiction Treatments
Private Drug Rehabs
For anyone living in Whitby that has a relative struggling with addiction to illicit drug or alcohol, we can help. Call us and get immediate help in locating a good affordable private drug rehab with fast admission. It is hard when your son or daughter is asking for help because of some mind-altering substance. 
Looking through Whitby's drug addiction treatments adds to the current turmoil. We know what you are experiencing and are here to support and guide you.
Addiction Program Referral Counselors
Our referral addiction counselor for Whitby have years of experience working with addicts and their family. We want to help you get your loved ones lined up to arrive at the facility most suited to their needs and particular situation. At first glance, it may seem impossible to get help for an addict. Most families tend to contact their public-access treatment centers. This often turns out to be a discouraging ordeal. The public sector is so in demand that quick admission is next to impossible. Many different interviews and a long waiting list. But you have more than one option.
Whitby Drug Addiction Treatments Option
The option for private drug rehab in Canada is not just a hopeful thought but a reality. Our referral counselors can put you in contact with affordable treatment programs. They're dedicated to working with you and your loved one to sort out your best option.
Each addict is struggling not only with their addiction but some underlying issues. When you decide to go to a private residential rehab program, you will have personalized service. Often the choice of families because they know there will be a higher chance for lasting sobriety. The individual will get one-on-one addiction counseling, high-quality nutrition, and a better ratio of counselor vs. residents. The main thing to recognize, in Whitby or any city, is that help is available. Your family member should be seen first as a person, and secondly as an individual with a problem to solve. That is the view when you enter a private drug rehab center.
From Use to Addiction
How your loved one became addicted to illicit drugs or abusing medication or alcohol may be a mystery. It is pretty straight forward. It begins when a person faces some unwanted or painful life situation. Many times it's just an inability to find the proper solution. Boredom, the death of a loved one, physical or verbal abuse, failure in some way, or simply the pressure of life itself may be a cause. In any case, the person is struggling with it and having no solution, drugs, or alcohol numbs it out. When the drug's effect wears off, more are used, this may rapidly create a dependency, and a new problem emerges called addiction.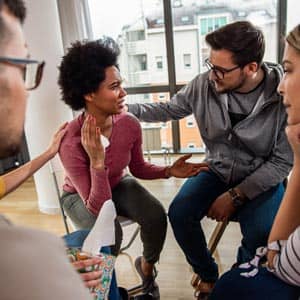 Whitby Drug Addiction Treatments
Private Rehabs Help
It's vital to seek professional addiction services when your loved one asks for help. The destructive nature of addiction will worsen and pull your family apart. Substance abuse takes no time off, nor will it wait for a treatment facility in Ontario to be available. Get guidance now to help your relative with experienced substance abuse counseling and residential treatment programs.