Drug & Alcohol Treatment Specialist
The word HELP has been in Susan's blood since she was young. Growing up in a small town in Newfoundland & Labrador, she came from a family that naturally helped others. As an adult, she worked with the elderly. She was devoted to making their last years comfortable and happy while preparing them for their passing. Susan worked for more than 20 years in this field and was passionate about it.
Later, in 2003, she had a career change. She was now helping people to LIVE drug -free lives. This new career became her ongoing mission and life work. She joined the team at a renowned drug rehabilitation center in Quebec, where she saw firsthand how treatment could help a person's spirit, mind & body become healthy again.
Susan held the position of Withdrawal Specialist, Rehabilitation Supervisor, and was Director of Production. Her desire and ability to help those with addiction brought out a will to understand the field better. Susan saw how families struggle to try to help their loved ones. So, in her daily life, she continues to HELP and consult family members who call, pointing them in the right direction as far as treatment centers. Or she will take the time and listen to the relative and their needs. She is also a certified Natural Health Consultant.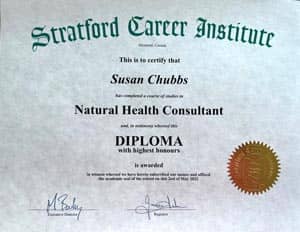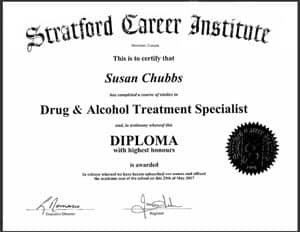 She obtained her diploma as a Drug & Alcohol Treatment Specialist and set up an Online Coaching Service. Susan has been working as a Drug and Alcohol Addiction Consultant; she counsels countless families under the grip of addiction and helps them find suitable facilities.